A MOOC - Massive Open Online Course
Prof. Ofra Mayseless Haifa University
Creating a Caring and Benevolent Environment in Education – A Massive Open Online Course (MOOC)
A MOOC – Massive Open Online Course – is a free online course open to all. Such courses, which have become more and more common, signify the fascinating change brought upon by the "information age", where knowledge – including academic knowledge – has become massively accessible, and in fact available to anyone who is interested and has access to the internet. This groundbreaking idea is rather new. The first free MOOC course was offered by Stanford University in the fall of 2011, and dealt with artificial intelligence. Over 160,000 students around the world signed up for the course, and over 20,000 of them completed it.
The MOOC we are offering is a very unique one. It presents an innovating, groundbreaking approach for the creation of a benevolent, caring environment, primarily in educational settings. The course addresses educational professionals on a personal level, and provides them with the knowledge and tools to make a significant difference, perhaps even a transformative one, in the way teachers teach and educate their students, so that they all experience care, joy, enjoyment, and even elation. These tools do not necessarily require additional funding, but rather call upon the educators' mind and spirit, their inner strengths, and the fire of meaning, motivation and caring abilities within them.
The objective of the course is to promote the creation of a caring, benevolent environment in the participants' professional and personal lives, so that anyone can learn how to benefit people in general and children in particular, and undergo a personal transformation through experiencing all of his or her being – senses, cognition, emotion, and spirit.
The tools we offer to make such a change are based on research on a variety of concepts such as mindfulness, caring, empathy and happiness, as well as concepts and research from the fields of education, positive psychology and contemplative education. The latter includes listening intently to yourself and to others, connecting to the deeper meaning of your life, and developing understanding and caring towards yourself and others.
Throughout the course, participants are invited to the Caring Zone, where they can enter the various topics through "gates" such as Listening to Yourself, Delight and Playfulness, and The Magic of Nature. Each gate presents concepts and research-based knowledge, as well as examples of practical applications of this knowledge which are already running successfully in Israel and abroad, and explains how to implement these principles in both personal and educational settings. Course participants are invited to open their heart and soul and take part in a unique experience, which offers knowledge, insights and tools in a multi-dimensional, open, inviting and accessible manner.
The course is based on the experience gained from similar courses in the University of Haifa taught by the course's lecturer, Ofra Mayseless, which have helped participants make significant personal changes. In addition, it is based on insights collected in the last decade, together with a group of researchers and educators involved with contemplative education, some of whom serve as co-lecturers and guest lecturers in the course.
Previously the course was only offered to University of Haifa students. However, starting March 2020 it will be available for free to anyone who is interested on the national Campus platform, provided by Digital Israel Bureau in the Israeli Ministry of Social Equality and associated with international MOOC platform edX. 
For examples of course videos, please see below (in Hebrew).
See you there…
Ofra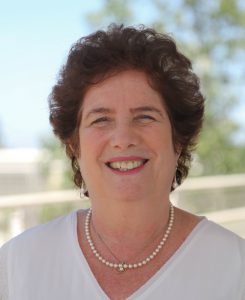 Prof. Ofra Mayseless main lecturer in the course. A professor of developmental psychology at the University of Haifa and a clinical psychologist. She has previously served as dean of the Faculty of Education and head of Pedagogical Affairs in the Ministry of Education. Formerly, she studied close relationships (romantic relationships, friendships, and especially parent-child relations) through the lens of attachment theory, focusing on the socio-cultural Israeli context and the transition to adulthood in Israel. She has also examined the motivational system involved in acts of caring, as featured in her book The Caring Motivation (Oxford University Press, 2016). She has published approximately 100 articles, chapters and books in a variety of publications platforms.
In the past decade and a half she has focused on the spiritual aspect of human development and the search for meaning. She is a co-founder of the Israeli Conference for the Study of Contemporary Spiritualities and of the Integrative Psychotherapy: Body-Mind-Spirit MA program at the University of Haifa. Recently, along with others, she has founded the multi-university Center for the Study of the Human Spirit.
Email: ofram@edu.haifa.ac.il
Dr. Oren Ergas
Beit Berl College, Israel
Dr. Miki Motola
Oranim Academic College of Education, Israel
Dr. Ricardo Tarrasch
Tel Aviv University, Israel
Dr. Moti Benita
Ben-Gurion University of the Negev, Israel
Sofi Barzilay
Oranim Academic College of Education
Dr. Aviva Berkovich-Ohana
University of Haifa, Israel
Dr. Arie Kizel
University of Haifa, Israel
Dr. Pninit Russo-Netzer
University of Haifa; Achva Academic College, Israel
Ms. Lia Naor
University of Haifa, Israel
Ms. Pnina Ohana
Project Coordinator
Mr. Yotam Morciano
Creative and editor in chief
Ms. Esti Levy
Learning Coordinator, Techno-Pedagogy
Mr. Shlomi Abukasis
Studio Manager
Ms. Tali Cohen-Dar
Photographer, Photography Assistant
Mr. Lior Tal
Photography Assistant
Omri Ruah-Midbar
Content and Techno-Pedagogic Solutions Consultant